August 2023 Sex Toy of the Month: The Nova 2 Vibrator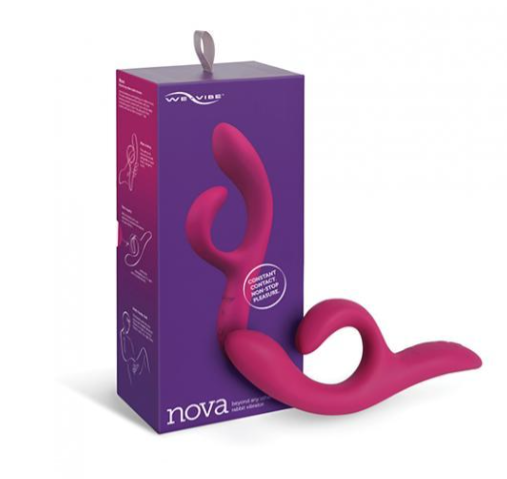 We are thrilled to unveil the hottest and most innovative addition to the world of pleasure products: the Nova 2 Vibrator. If you've been on the lookout for a toy that combines cutting-edge technology with mind-blowing sensations, your search ends here. The Nova 2 Vibrator is set to redefine your experience and leave you craving for more.
Dual Stimulation Delight
The Nova 2 Vibrator takes dual stimulation to a whole new level, targeting both your clitoris and G-spot with precision. Designed for those who demand the best of both worlds, this exquisite creation seamlessly merges the pleasures of external and internal stimulation, bringing you to the heights of ecstasy like never before.
Dynamic Design
Crafted with user satisfaction in mind, the Nova 2 boasts a sleek and ergonomic design that perfectly complements your body's contours. Its flexible and adjustable shaft ensures that it hits all the right spots, offering a personalized experience that's tailored just for you. The sophisticated design isn't just about aesthetics; it enhances comfort and guarantees unforgettable pleasure.
Tech-Infused Teasing
What truly sets the Nova 2 Vibrator apart is its incorporation of state-of-the-art technology. This toy features a range of customizable vibration patterns and intensity levels that can be controlled via a user-friendly smartphone app. Whether you're looking for a slow and sensual build-up or an intense and rapid release, the Nova 2 puts the power to explore your desires right at your fingertips.
Whisper-Quiet Intimacy
Privacy and discretion are paramount when it comes to personal pleasure, and the Nova 2 Vibrator understands that. Its advanced motor technology ensures whisper-quiet operation, allowing you to indulge in your deepest desires without worrying about prying ears nearby.
Body-Safe Bliss
At the heart of the Nova 2 is a commitment to safety and quality. Crafted from medical-grade silicone, this vibrator is not only sumptuously soft against your skin but also body-safe and hypoallergenic. It's rechargeable, making it environmentally friendly and ensuring you never run out of power when the mood strikes.
Dick and Janes Naughty spot loves the dynamic flexibility of the Nova 2. We love it enough to have paired it with the New York Times selection for the best vibrators of 2023! We are also proud of our other sensual products, and we know you will love them too. Be sure to check out our online store for all of the different vibrators we offer!