October

Featured Sex Toy(s) 
October is the time for that spooky sex and trying those scary things you've never gotten the chance to! This is your sign to try them out and we are here with some suggestions! 
Our first toy is going to be Knuckles Small Clenched Fist Dildo. This 9.5 inch long fisting dildo is the ultimate toy for newbies and the experienced. It may look scary but you can go at your own pace and comfort level or you can use this with a partner! The choice is yours. 
Our second toy(s) is going to be a bit of a two parter! First up for the adventurous and those who love dressing up for Halloween, we have a costume idea. Unleash your inner fairy tale creature with the Tailz Rainbow Pony Tail Anal Plug. This is just one of the 'tailed' butt plugs we offer but all allow you to incorporate your love of anal and the butt with Halloween! Secondly, we have a simplified option for the more discrete anal lovers. The Booty Sparks Black Rose Anal Plug gives you a simple yet spooky looking option to enjoy the other hole.
Enjoy this spooky month how you see fit but no matter what just make sure you enjoy it! Happy Halloween.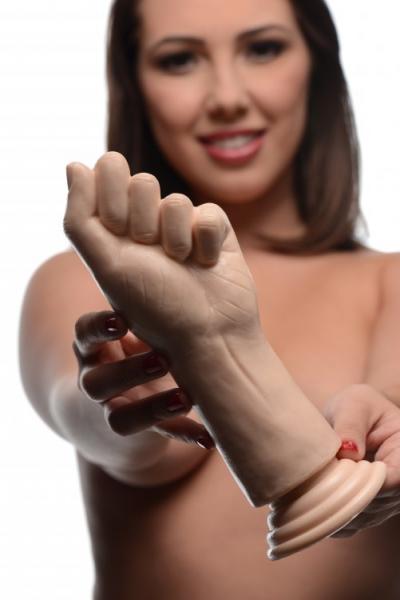 Prepare to punish that hole! Master the next level of ion with this smooth, lifelike fist. You can fist yourself or get fisted by a partner with this clenched hand. The realistic details will stretch you open and massage your hole. Perfect for vaginal or anal use, just lube up and get ready for intense penetrating pleasure. The flared base allows you to impale yourself entirely and ensures easy retrieval. The powerful suction cup can be mounted so that you can ride these Knuckles… hands-free! Made of a phthalate-free material, it is body-safe and compatible with silicone and water-based lubricants. Clean with a mild soap or toy cleaner after use. Dimensions: Total Length: 9.5 in. Insertable: 8.5 in. Widest Diameter: 3.2 in.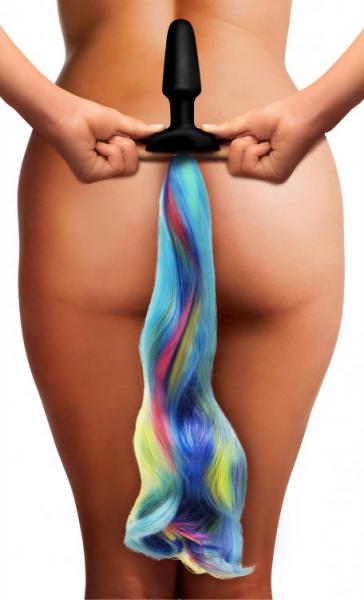 Tailz Rainbow Pony Tail Anal Plug from XR Brands. Enjoy hot equine action in a fun, flirty color with this smooth, full pony tail! Braid it, brush it, swish it, show it off! The tail is a full 20 inches of synthetic fiber, topped with a phthalate free and silky smooth silicone plug. The classic spade shape inserts easily, with a flared base to keep it firmly in place. Measurements 24.25 inches in total length, 3.5 inches insertable, 1.3 inches in diameter. Materials Silicone, synthetic fiber. Color Rainbow. Note heat styling not recommended.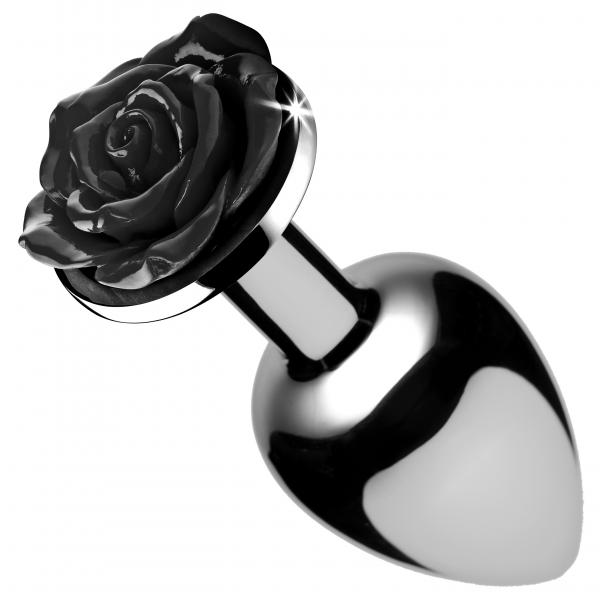 Beautify your booty with this darkly stunning rose! Featuring a smooth metal finish in lightweight aluminum, it features a beautiful deep black rose at the end which will flash as you bend over and tease your lover. The slim shaft will keep it from slipping out of place even during vigorous play.
The nickel free aluminum alloy is nicely weighted and temperature sensitive for the perfect amount of sensation. When play is over, the non-porous material will clean easily without harboring any harmful bacteria. Make that booty bloom!
Measurements 3 inches in total length, 2 inches insertable, 1 inch in diameter. Materials Aluminum alloy, ABS plastic. Color Black.